Pattern?
Some people have claimed you can predict the winner from the picture at the end of each episode. Here are the seven cycles. Let's see if my predictions hold true for cycle 7.
Winner: Adrianne Curry; Runner-up: Shannon Stewart; Third place: Elyse Sewell.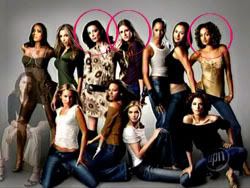 Winner: Yoanna House; Runner-up: Mercedes Scelba-Shorte; Third place: Shandi Sullivan.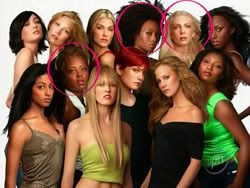 Winner: Eva Pigford; Runner-up: YaYa Da Costa; Third place: Amanda Swafford.
Winner: Naima Mora; Runner-up: Kahlen Rondot; Third place: Keenyah Hill.
Winner: Nicole Linkletter; Runner-up: Nik Pace; Third place: Bre Scullark.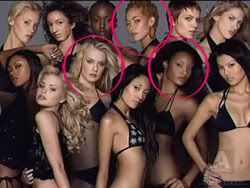 Winner: Danielle Evans; Runner-up: Joanie Dodds; Third place: Jade Cole.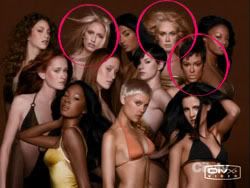 Winner: Caridee English; Runner-up: Melrose Bickerstaff; Third place: Jaeda Young.
Some people say there's no such thing as a pattern, but you have to keep in mind that when everything's ready and done being edited, the production knows who the final three are. They are not going to put the winner in the corner. They're going to give her the best placement for the shot of her they're using. Based on placement, I think Caridee will take the cake, Melrose will be second, and Jaeda will be third. Jaeda is CLASSIC third place. The unexpected-come-from-behind, been-in-the-bottom-two-too-many-times girl. It could also be Eugena, but let's hope not.
Labels: america's next top model, antm, life is a reality show, lifeisarealityshow, model, television, top model, TV